If you are looking for an industrial engine solution, you've come to the right source. For more than 30 years we've provided engines for thousands of installations, covering a wide array of applications. We offer new diesel and spark ignited engines from Kubota with an engine range of 6-116 HP.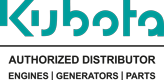 Today's industrial engines are more complicated than ever before, and new emission standards are a big part of it. To make a smart engine choice, it's important to choose a supplier who can help you make a knowledgeable decision. While our history and even our name says "engine," part of our success is due to what we provide in addition to the powerplant. As you'll discover throughout this site, we offer extensive applications expertise, engineering and development resources, integrated manufacturing capabilities, turnkey product support and more.
In the end, we believe it ultimately comes down to having the whole package: knowledge, experience, capabilities, and yes, engines. EPS offers you all of the above. To learn more, contact us.